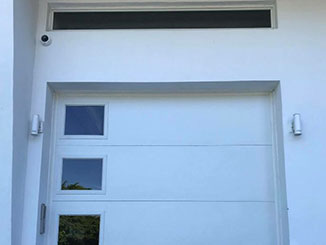 An old and outmoded garage door can make you let out a deep sigh when you're preparing for work in the morning. If you've decided to revitalize your old model, we prepared some great contemporary upgrades you can do to give it a breath of fresh air.
Have Windows Installed

Windows a great addition to your door as they provide a plethora of features and benefits. Here are the most prominent ones.


● Light

As obvious as it is, windows let through natural light into your garage and increase visibility inside. You'll save your hard-earned buck on electricity and may even need to heat less as sunlight can warm the area up a bit as well.


● Visual Appeal

This is another great benefit. By adding windows, you will enjoy a more intricate design of your door and are able to choose from a variety of styles and dimensions. This will boost your home's curb appeal and make your home look more inviting and refreshing.


● Coordination with Other Windows

Windows can also be fitted with your existing design and provide a more cohesive look of your property.


Improve Energy Efficiency

Newer garage doors are often made of sustainable materials and come fully insulated, which can sustain harsh weather and improve your home's energy efficiency at the same time. This means lower energy bills and a refreshed design. Two birds, one stone.

Add Sophisticated Features

New products also come with DC motors and LED lights which reduce energy usage. Also, in case you're hit with a power outage, there is an option to install a backup battery for the opener and save yourself the trouble of manually open the door.

Home Automation Features

If a fancy upgrade is what you're after, how about you sync your opener with your smartphone? Think about the times you lost your remote and went through the struggle of reprogramming it. There's an app which works with newer motors and lets you control your door even if you're far away. We recommend this feature for those who prioritize the safety of their property as the system informs you when someone has opened the door.